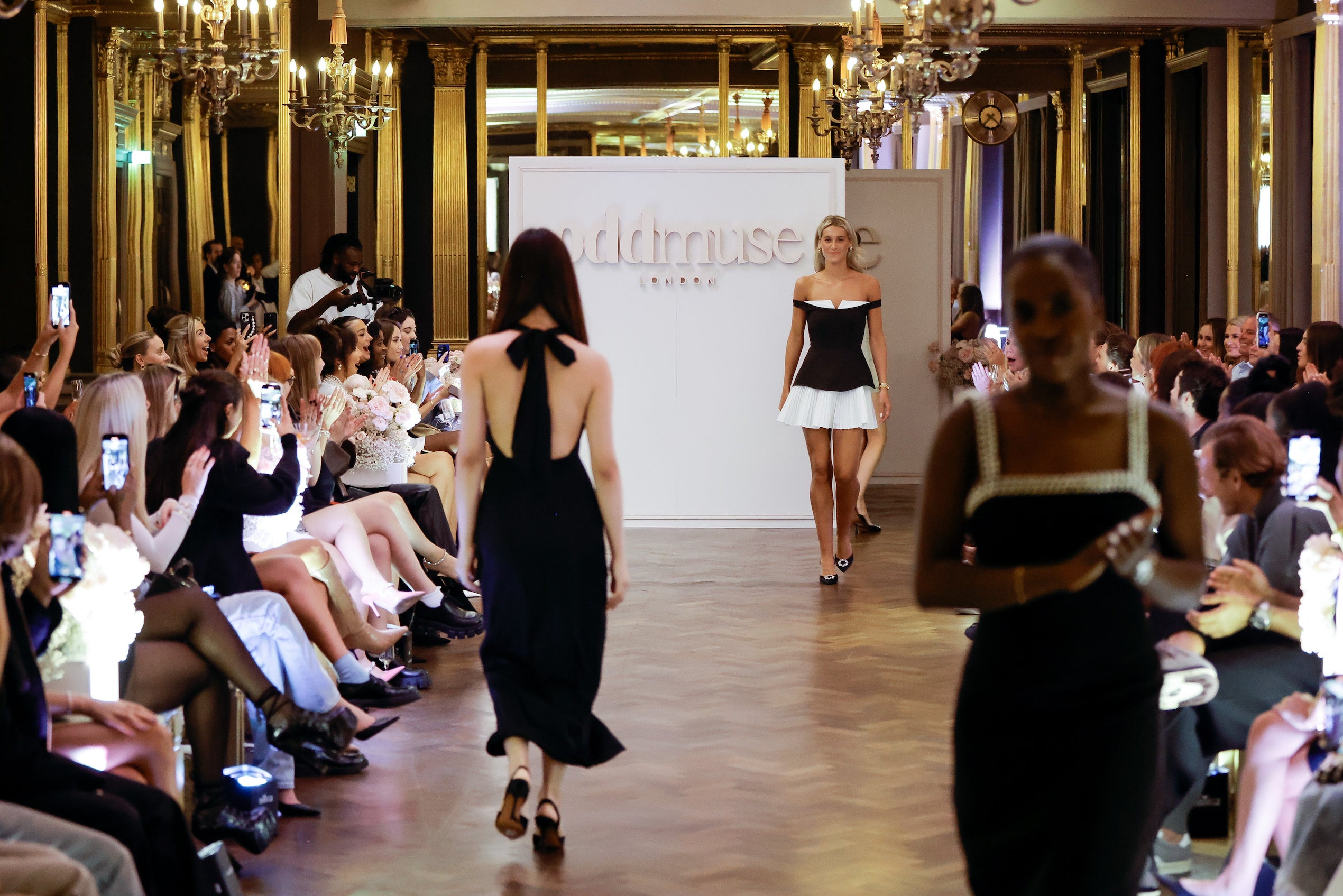 Odd Muse Takes London Fashion Week
Written by Georgia Rhodes
The Scene Is Set
Odd Muse never ceases to provide us with a grand dose of unveiling the unexpected, breaking boundaries and of course aesthetic pleasure while doing so, and their first runway was no exception. In possibly their biggest moment yet, the London-born label made a noteworthy London Fashion Week debut with their unparalleled dedication to slow fashion.
Displayed at the luxurious Hotel Cafe Royal, the rooftop venue screamed Odd Muse, with timeless high ceilings decorated in gold accents and intricate paintings with classic black chandeliers, leaving guests feeling as though they were in the heart of Paris. Especially, when stepping out onto the white stone balcony encapsulated by the beautiful venue. The floor was decked with a carefully curated array of flowers, all in theme with the Odd Muse branding and classic muted pink shade synonymous with the brand, surrounded by the art-deco gold and white seats. With glasses of champagne 'cheers-ing' and 'Aimee's Margaritas' and 'Muse in Manhattan' cocktails clanking, the night was away. With every detail so intricately thought of, the Odd Muse team put so much heart into every choice and pulled off their first fashion show in just 8 weeks marking an unforgettable event, in true Odd Muse style.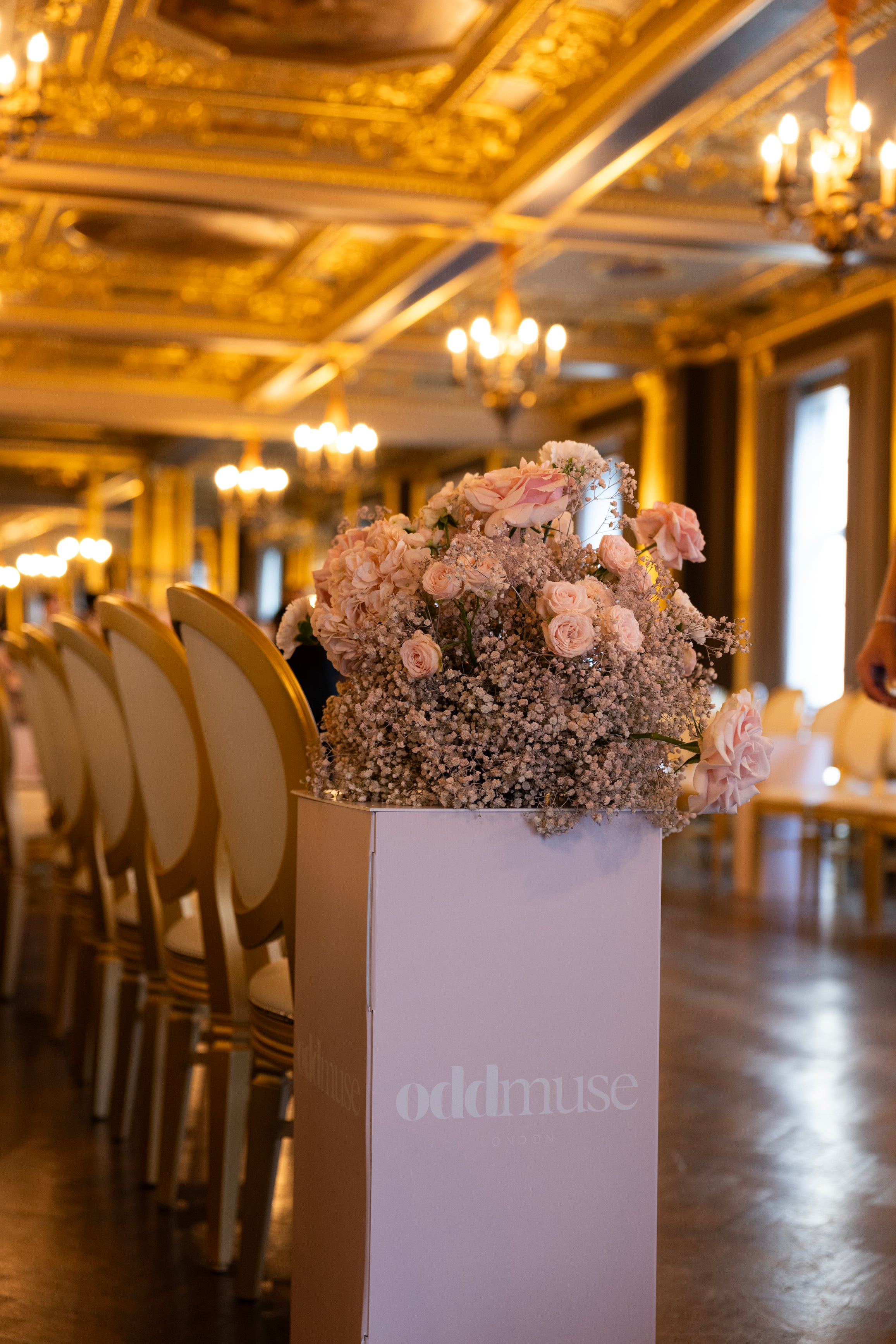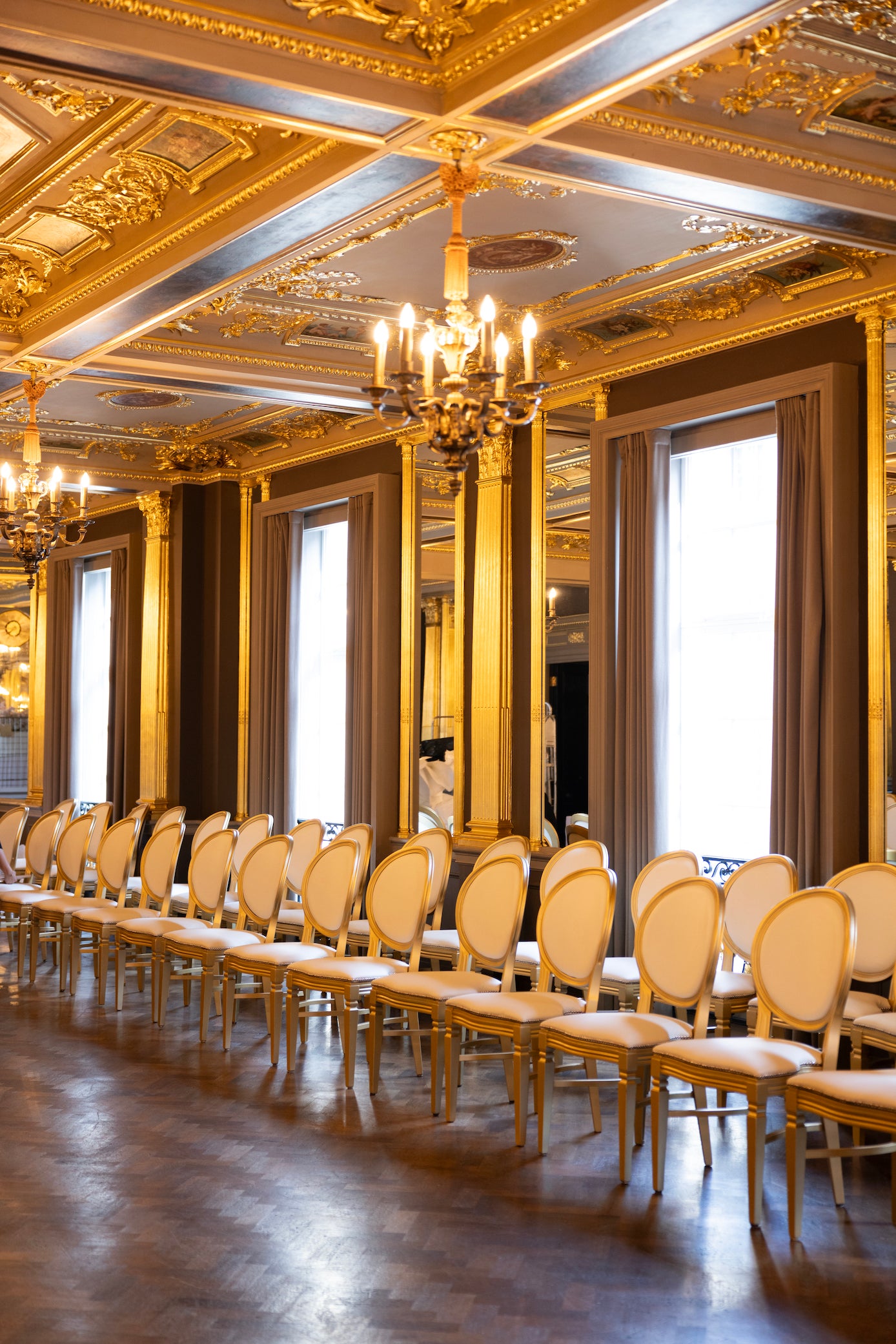 Time For A Celebration
Seamlessly falling on Odd Muse's three-year anniversary, the show aimed to show the slow fashion house authentically, sticking to its investment wardrobe designs and luxury finishes throughout the collections displayed. The simplicity and elegance of the slow-focused fashion label were prevalent throughout the entire show. Creative Director and Founder, Aimee Smale explains, "It was never planned to fall on the three-year anniversary of Odd Muse but it was just so seamlessly the right time to do it. This was the next step for us and perfect timing."
With an exclusive intimate guest list from content creators Aimee knows and loved over the past three years to her closest family members, it was most important above all to Aimee to implement the authenticity of Odd Muse with her first fashion show, explaining, "I literally don't care or know each attendees following, I just met and adored them. I filled the room with people I know and love."
As guests began to fill the venue in Simple Statements and iconic cinched waists, you could feel the love for Aimee and Odd Muse echo around the room as anticipation built. Backstage the models were entering their final touches as the Odd Muse team were staying ahead of the game.
"This was not a press night; this was a celebration and a presentation." – Aimee Smale
Team Moments
Lauren Beadon, the Social Media Strategist and Summer Godbold, the Creative Marketing Assistant shared their pre-show thoughts, reflecting on leading up to the big day, "It has been a whirlwind, the entire team has truly pulled together", Lauren explains. Which is nothing new to the team, as Summer further explains,
"Even just the couple of months I have been a part of the team the growth has been insane" Adding that today's first-ever show is to convey the true message of Odd Muse, timeless luxury and elegance that they create here.
Hannah Child, the PR Assistant knows just how much this evening means to Odd Muse, "Even when I joined the team in 2022, this was a goal of Aimee's and something she has always aspired to do. It's crazy looking back on the three-year anniversary of Odd Muse, how it has gone from 2020 Aimee in her bedroom to London Fashion Week 2023."
The models were sat in their fluffy crisp white robes spreading positive
affirmations to one another while enjoying some pre-show pizza in the makeup chairs following rehearsals, all walking the runway for the first time. As we chat away Frankie May explains "Walking with Odd Muse feels like quite the entrance to modelling, they are becoming a big brand at a quick scale. I'm in four looks today and I'm very excited to showcase my final look which I believe is a runway exclusive." Naomi adds "It's one thing to do ecom shoot but it's a whole other experience to take it to the runway and this even showcases Aimee's journey, which is amazing to be a part of."
The glam team went with a classic soft glam for a runway-ready look, enhancing the features and staying strong of the glow for a sun-kissed finish. All about letting the skin shine through with a no-makeup makeup finish. Ensuring the outfits and garments shined through, the hair focus was a mix of slick back ponies and waved curls. The team, Megan and Jordan describe the overall look as "simple yet striking".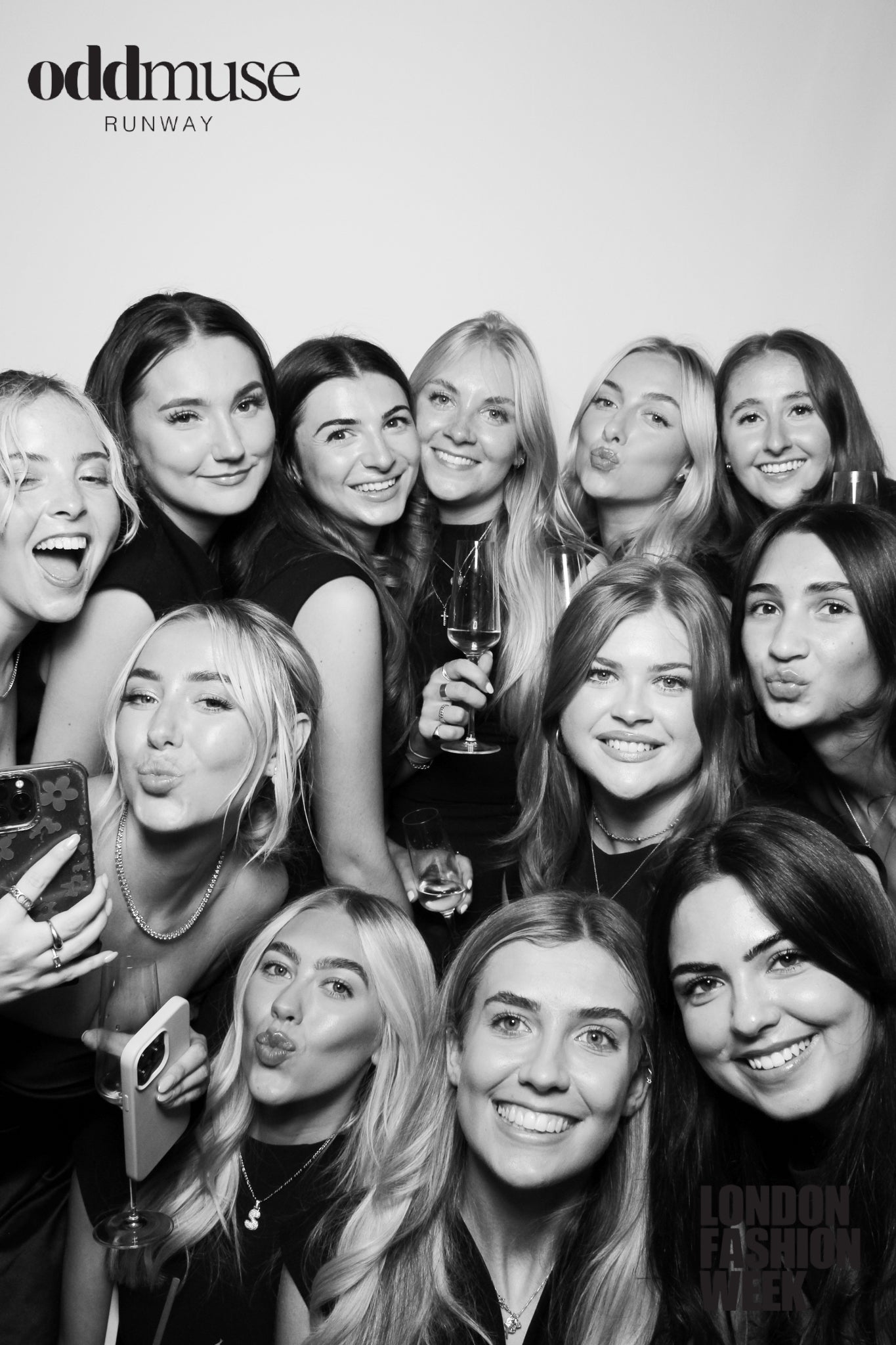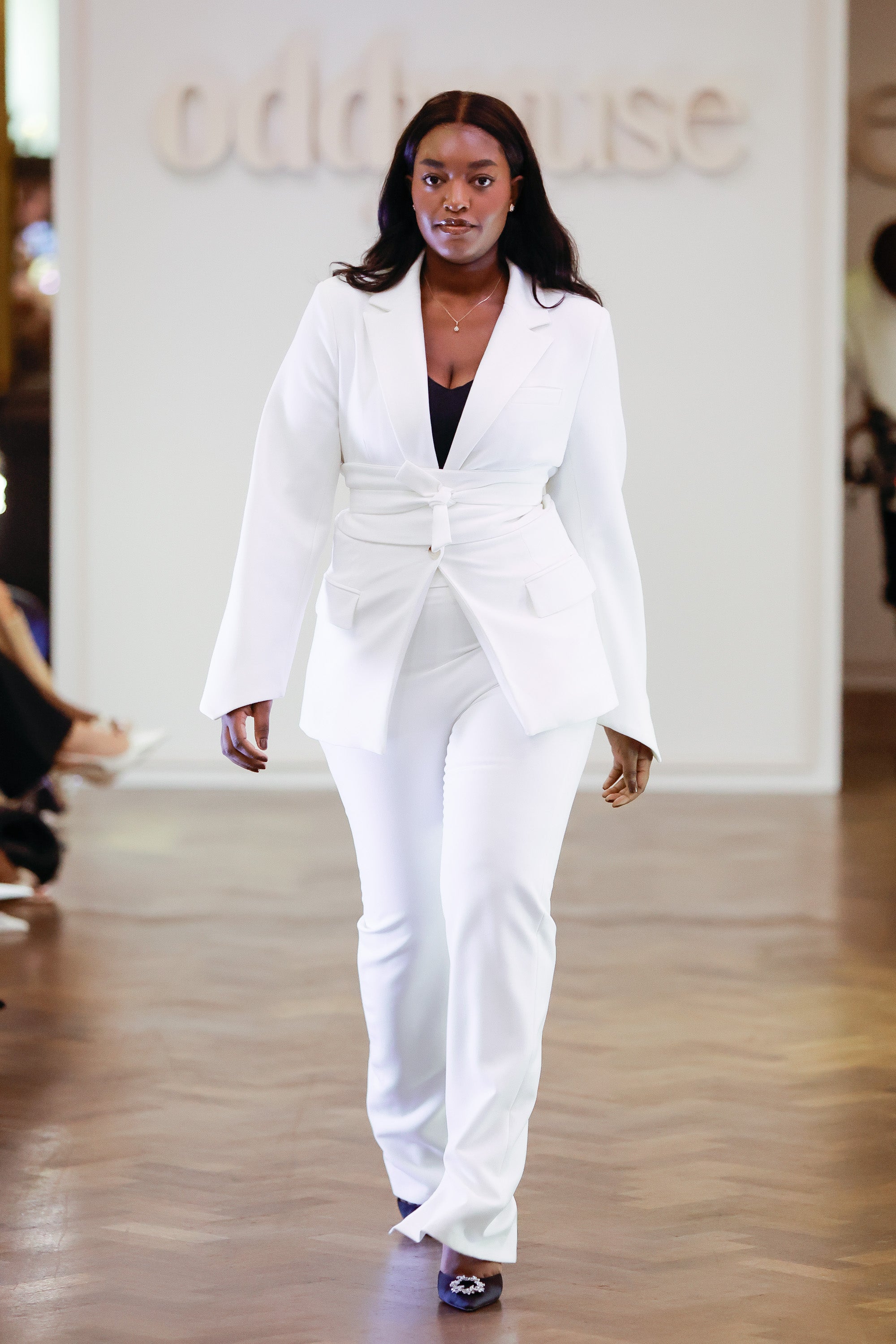 The Runway
The Core Collection is one we are all familiar with and can't get enough of, it is simply Odd Muse to the core, full of tailored silhouettes and effortlessly flattering co-ords. So, it was only right that the runway began with the piece that started it all, the iconic Ultimate Muse Blazer.
As each timeless piece graced the runway, it's clear these designs were not only made to last for countless years but stay true to wanting to re-wear year after year. The three-year-old blazer adorned the catwalk seamlessly blending into the new collection, this is what Odd Muse is all about, timeless elegance with a luxury touch.
A showcase of garments curated from Odd Muse's signature luxury tailored fabric followed, with stand-out details from flattering V-necks and high leg slits to pearl beaded trim, a subtle nod to a distinguishing stamp of the brand. Keeping it neutral, the everyday colour pallet stayed true to Odd Muse's focus on investment fashion, transitioning from nude and beige to jet black and white playing with contrasting touches.
We even got a glimpse at some Pre-Fall designs including off-the shoulder dresses in tailored dusk brown designs to a chic cropped trench. Elegantly leading us to the Exclusive Runway Collection with stand-out silky satin crisp white garments. Each piece exuded confidence with Odd Muse's signature take on lines, popping silhouettes and simple yet sophisticated finishes further marking the brand's sartorial empowerment.
Exclusive Collection
As the Odd Muse Runway Exclusive Collection took to the runway, we saw cinched waist tailoring enter a whole new level, with sleeveless collared dresses, satin puff sleeves and an avant-garde bardot neckline close the show.
While the commentary of the audience built up to a new height, it's clear the runway exclusives are a new adorned love. With a portion of the proceeds donated directly to TeensUnite who were exclusively on the show guest list tonight, while the carefully curated program placed on everyone's seat featured an easily accessible QR code to donate, there's so much more to love about the collection.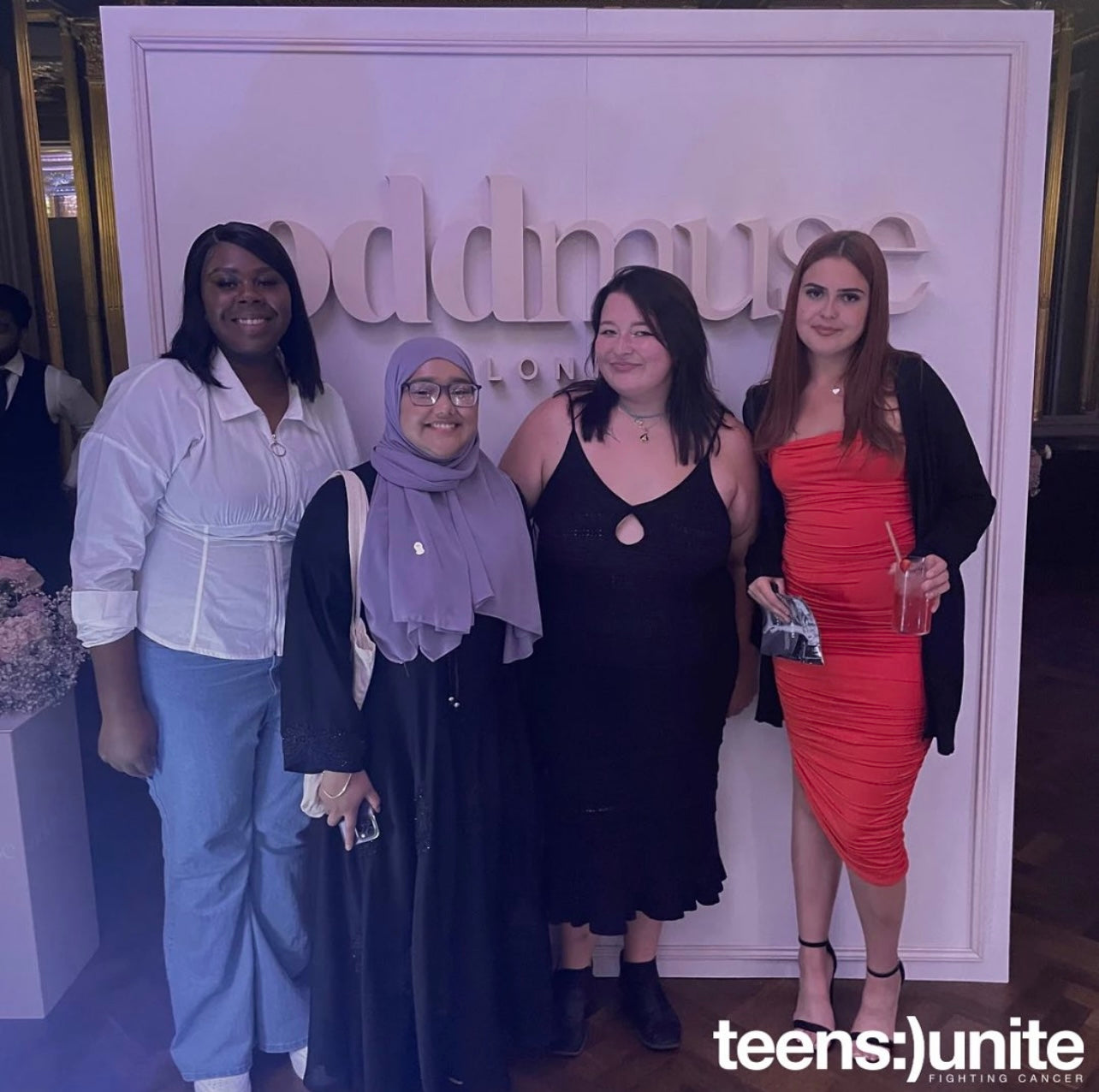 The Gift Of Giving Back
Teens Unite is an exceptional charity close to Aimee's heart that supports young adults getting into their dream industry despite facing cancer diagnosis and treatments at such a young age. Aimee proudly works with the charity to continue to support them and help the fashion-inspired young adults. Kate from the Teens Unite Charity explains, "Aimee very kindly reached out to support the charity and not only had invited some of the young people that we support to come along and get an insight into the world of fashion but is also very kindly donating some of the proceeds of the collection to Teens Unite so we can continue to support more young people and do the work that we're doing."
Lily a 20-year-old who has recently connected with Teens Unite was one of the incredible young women invited to the show tonight with the charity. "It's been a journey to build up the courage to reach out for support." With a keen interest in fashion, she joined the charity when entering a competition to design her own bag, as she explains "Events like today give me an amazing insight into the fashion industry, when I had cancer everything felt closed off, but Teens Unite has connected me with other people and these amazing opportunities, I actually just got the all clear from the hospital as I turned 20 this week, so I'm just looking to the future."
Finishing Touches
With 28 looks the runway covered the Core Collection, a Pre-Fall preview and the Runway Exclusive collection staying true to Odd Muse's slow fashion approach with key pieces displayed. Aimee explains, "As our first show I really wanted it to focus on our last three years so that's why you saw core at the beginning, a preview of our latest collection, Pre-Fall, but then I really wanted to wow the audience with what else we can do and that's when you saw the party and the runway exclusive collection."
It's clear the stand-out piece of the evening was Look 24, featuring an off-the-shoulder finish and contrasting pleated skirt hem, the innovative silhouette was so effortlessly timeless, taking you from chic everyday attire to a partywear piece for a lifetime. The entire audience stopped to gasp as the model took to the runway.
As the show came to a close, Aimee stepped out to thank her audience as emotions overwhelmed her, the first thing she did was step out to her parents for a hug, before getting her Odd Muse team to take to the runway. You could truly feel the emotion and admiration of the entire audience watching such an unforgettable and authentic moment. The standing ovation continued for Aimee as the respect and love for her and this incredible achievement filled the room.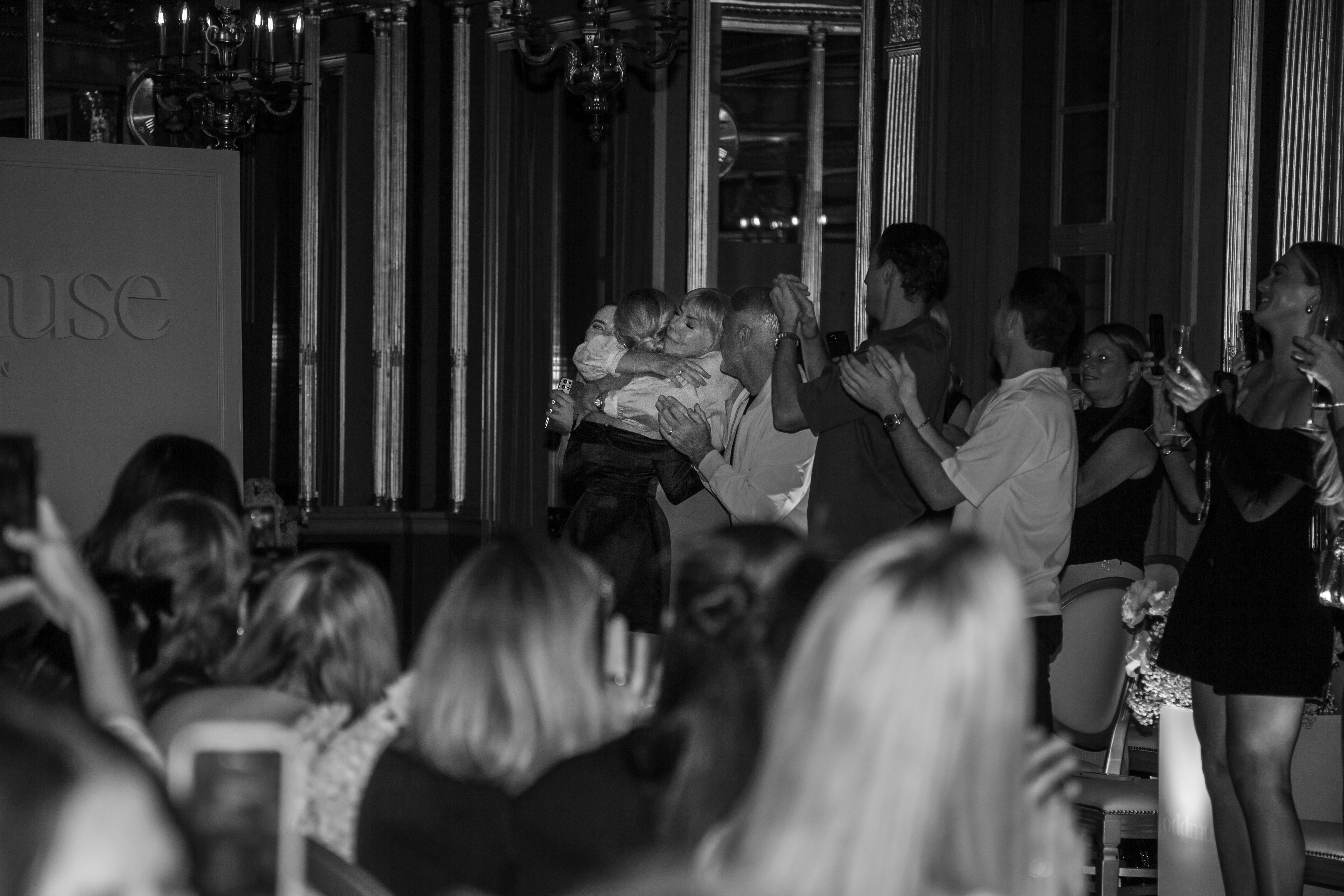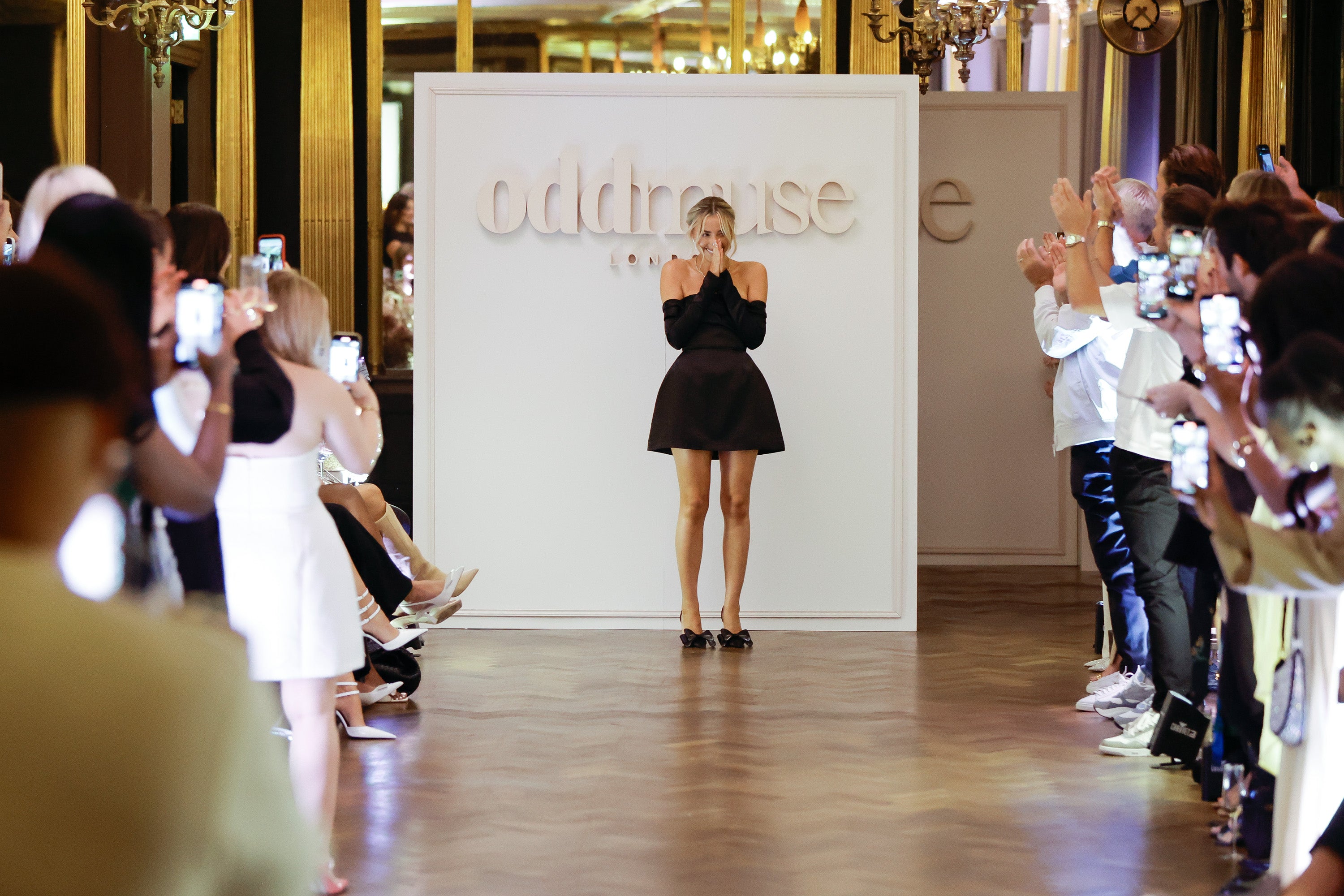 A Note From The Creative Director
In the midst of the emotions and height of the post-show catching Aimee just after she stepped off the runway, she reflected on the immense experience as she expressed, "I feel amazing, someone actually asked me the other day 'are you an introvert of an extrovert?' I said I'm an introvert, but I really challenge myself to be as extrovert as possible as I love fashion and I know what it takes. This isn't anything that I'm used to, or I set out to do, but I know that my brand needs me to do it. I try to do it in the most authentic way possible." As Founder and Creative Director, Aimee has experienced her fair share of sleepless nights and pressure leading up to this moment. She adds, "It has been so challenging leading up to this moment, we are a small and young team, but everyone is so dedicated and focused to try new things. I am so lucky to be around the kindest girls."
Odd Muse seamlessly took the brand from online to not just the runway but to London Fashion Week runway for their first show embracing what truly sets them apart, celebrating creativity, diversity and unveiling pieces that embody the brand and essence of timeless fashion as they continue to introduce a slower pace to the fashion industry.
If you missed the live stream, you can rewatch it here or even take a look at the latest vlog leading up to the show. If there's one thing Odd Muse cherishes it's the relationship built with you, thank you from the bottom of Aimee and the team's heart for supporting Odd Muse, a brand full of heart.
You can shop the Runway Exclusive Collection of five Exclusive Muse Pieces from this Friday at 9am, sign up to the waitlist now for this limited collection.