Get the Paris luxury look for less (without sacrificing quality)
Written by Georgia Rhodes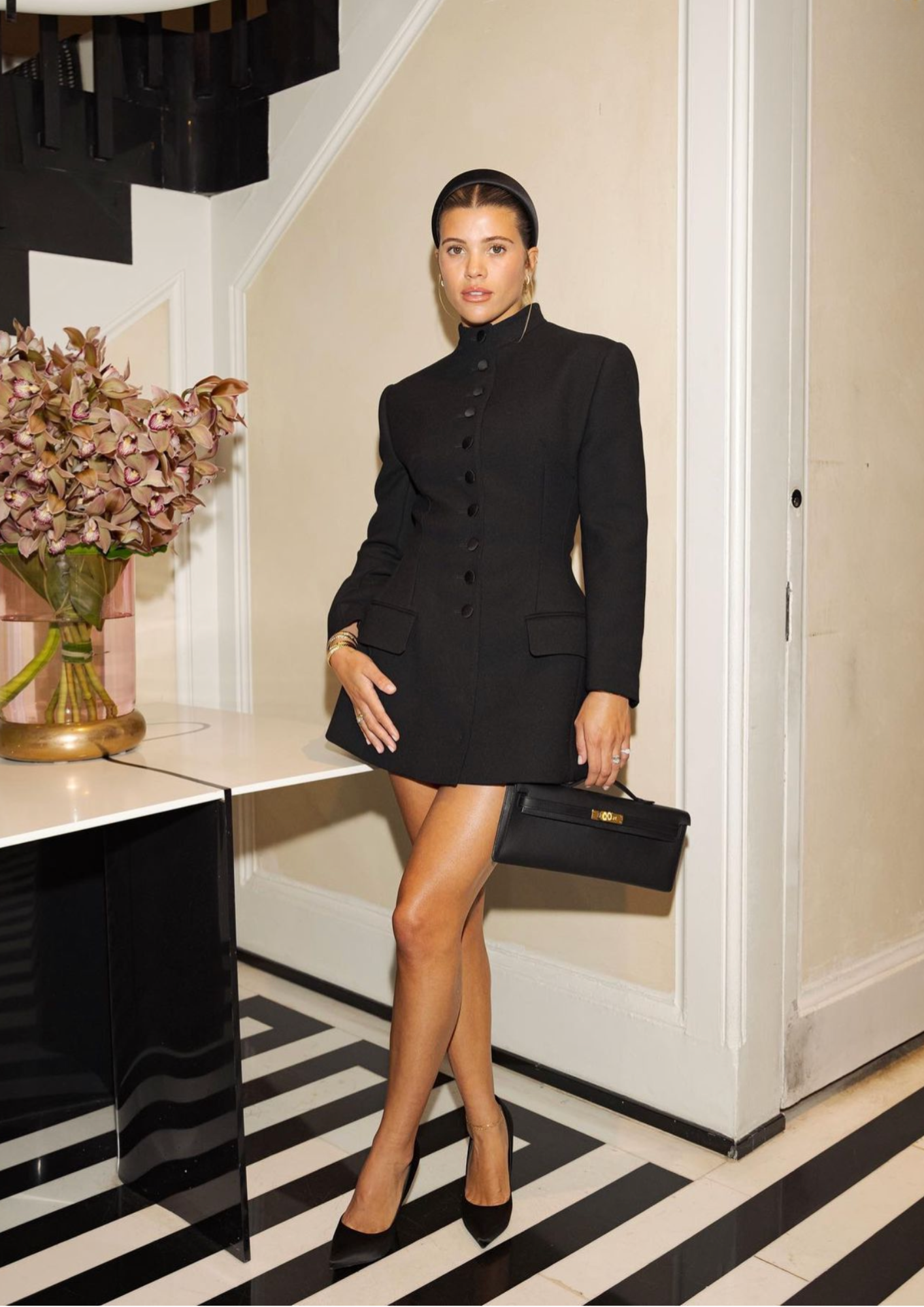 And breathe… Fashion month is finally coming to a close but not without showcasing its Parisian roots at the holy grail of them all, Paris Fashion Week. It's not in fashion until Paris says it's in fashion. If like us religiously following the latest of the luxury runway in complete awe reminds you of how you will ever blend your budget with your fashion taste, then let us walk you down the catwalk. *Odd Muse has entered the chat. * Adorning over timeless, luxury fashion can feel out of reach and unattainable when looking to invest in your wardrobe, which is why Odd Muse's message encapsulates bridging the gap between luxury and the fast fashion industry with high-quality, timeless garments to love and last a lifetime.

Odd Muse began with our founder Aimee's dedication to bridging the gap between fast fashion and unattainable luxury for young women to invest in their wardrobes and love their garments for years to come. With high-quality tailoring and timelessness in mind at all times, here at Odd Muse, we do just that and more offering a slower pace to the fashion industry to educate our consumer.

So, how can you get the Paris Fashion Week look for less by establishing your wardrobe with Odd Muse? (yep, we even beat the luxury industry leaders to it).

1. The Ultimate Muse Blazer
The runway was inundated with the classic black blazer and pants look. From McQueen and Loewe to Kendall Jenner closing Victoria Beckham, it was one key trend you couldn't miss. In fact, one we've been shouting about since the very beginning of Odd Muse. Our infamous Ultimate Muse Blazer takes you back to where it all began, this investment staple will simply never go out of style completed with high tailoring and Odd Muse's signature cinched waist infusing our timeless vision into each and every piece.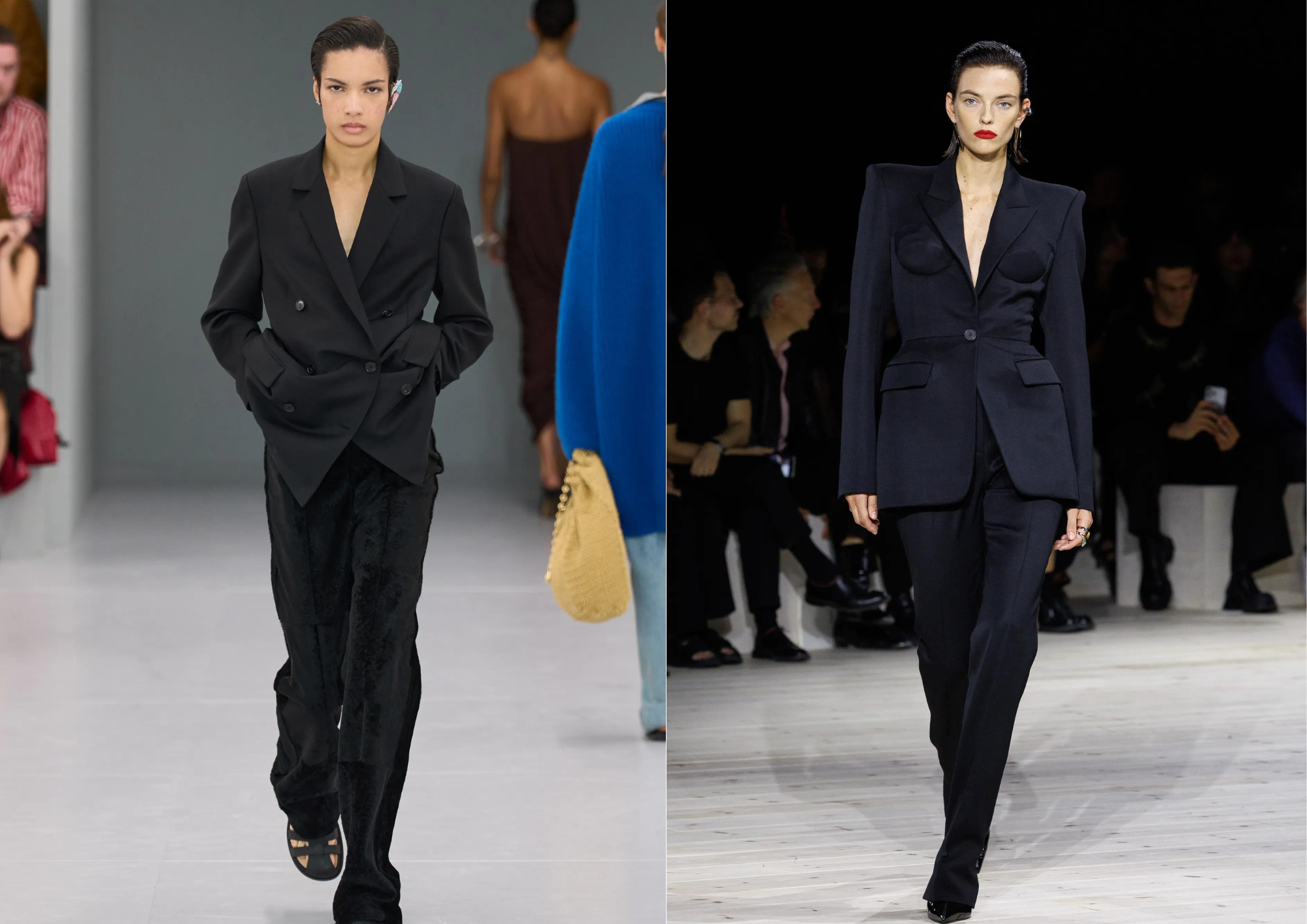 2. The Ultimate Muse Strapless Dress
Under the iridescent city sky, the Lancome X Louvre event was one for iconic fashion looks, where Sabrina Carpenter stunned in an Atelier Biser cruise collection white strapless minidress exuding opulence. Just like that, Odd Muse got there first, with their Ultimate Muse Strapless Dress in crisp white colour-way with a fitted waistline and structured A-Line silhouette just like Sabrina's style. She is truly a muse.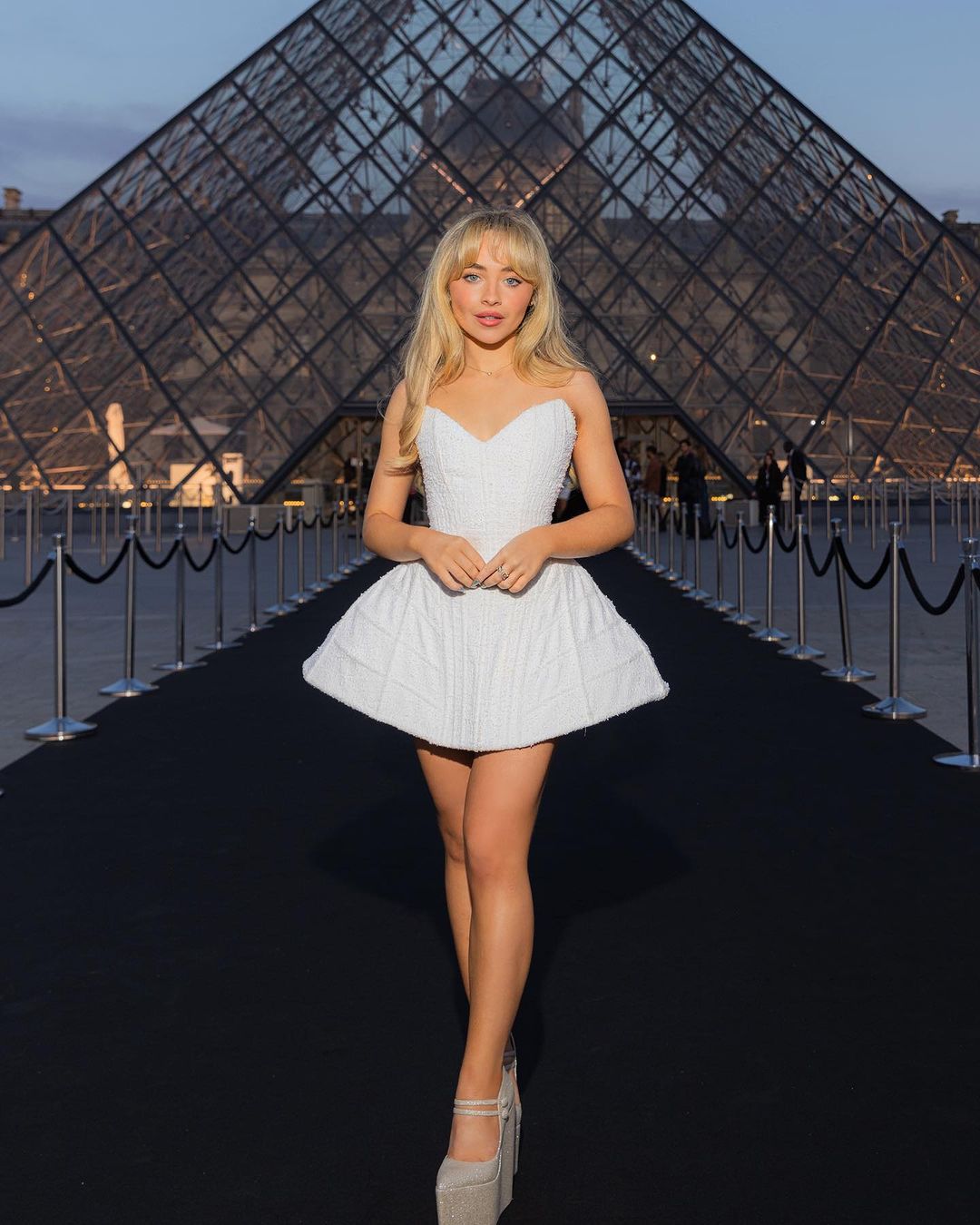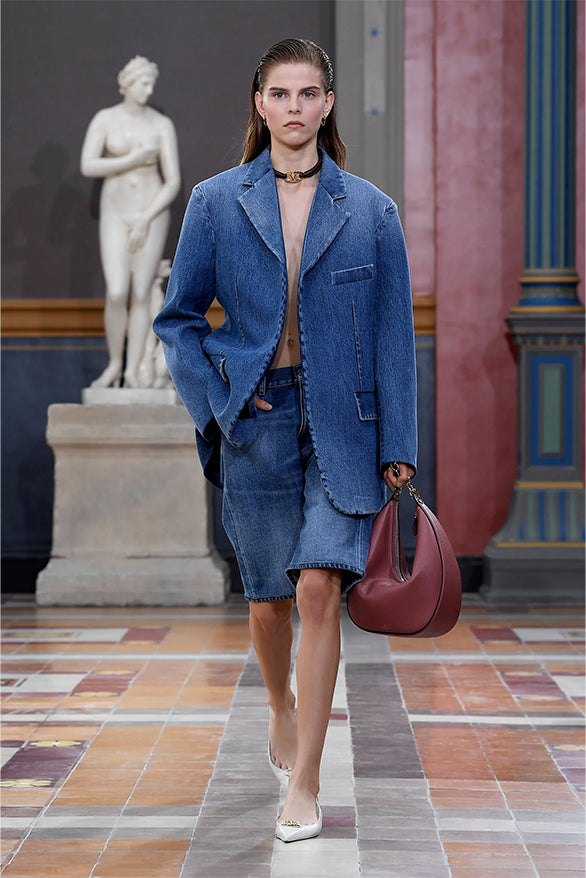 3. Double Denim Moment
Valentino's elegant display of luxury presented us with a double denim delight featuring a prominent focus on the distinct blazer. Ditto! Here at Odd Muse, we have taken denim one step further, with the triple denim desire so now you don't have to brave the shirtless look (unless you want to). Our Pre-Spring collection consists of The Ultimate Muse Denim Blazer as seen in Glamour, with that high-quality tailored finish so you can channel luxury into building your investment wardrobe. Don't forget the matching attire, with The Ultimate Muse Denim Jeans and Denim Bodysuit blending comfort first with trailblazing touches from subtle spilt hems to our beloved square necklines.
From London Fashion Week to Paris Fashion Week, this just in, Euphoria star, Maude Apatow was spotted front row of Valentino in a figure-hugging black gown with a distinct white-collar finish. Welcome, Exclusive Muse No.2 just shown on the catwalk two weeks earlier as part of Odd Muse's very own runway exclusive collection. No.2 embodies elegance with a satin finish and oversized defining white contrasting collar. It gets even better, each one of these garment sales gives to a charity close to our Founder, Aimee's heart, Teens Unite Charity. So you can shop timeless fashion while making a positive impact.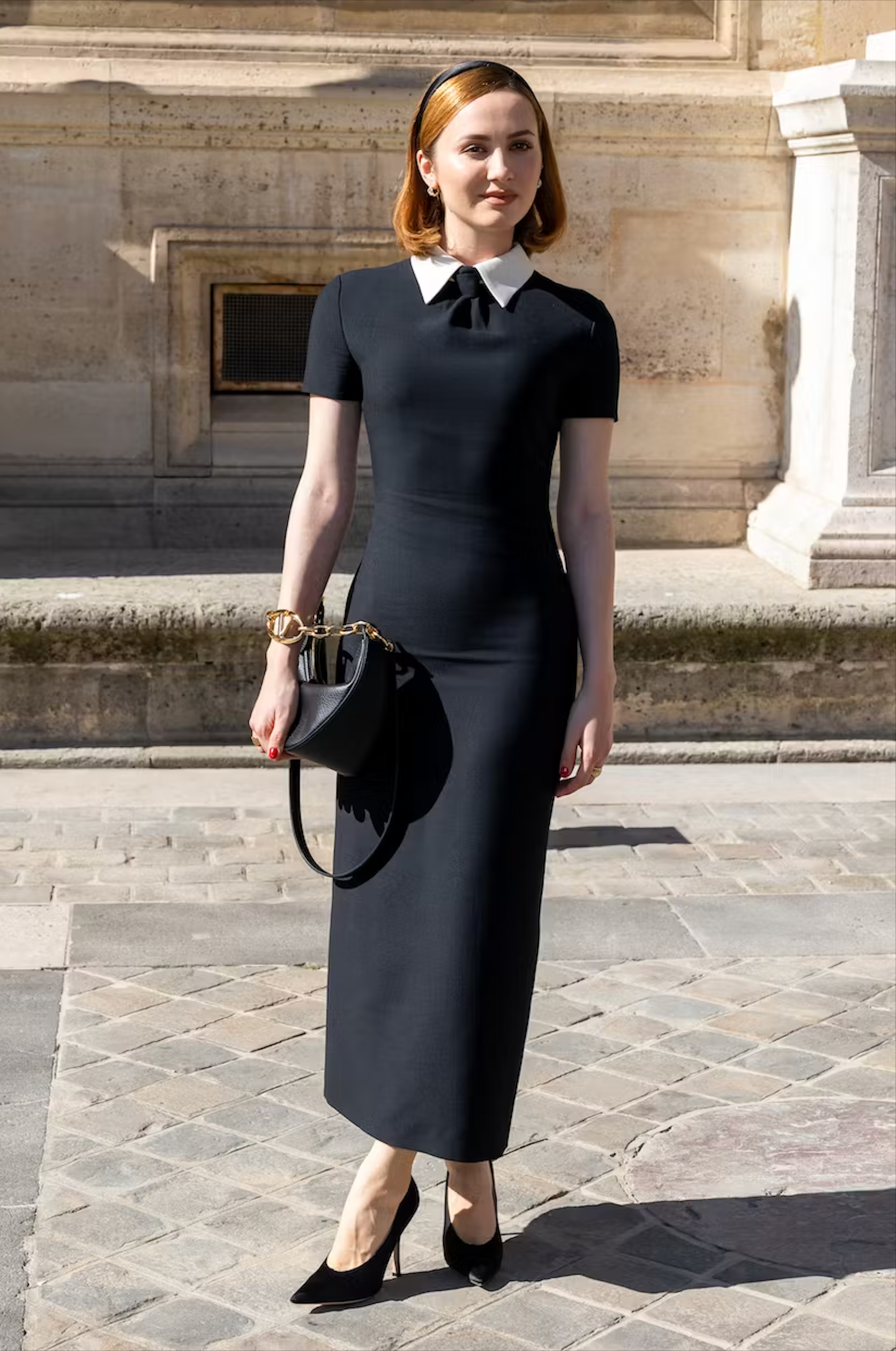 Saint Laurent never fail to encapsulate simplicity in luxury through sophisticated silhouettes bringing an era of power dressing, exhibiting their new collection including a taupe pencil skirt with a simple split. Incoming, The Ultimate Muse Midi Skirt to achieve your day to night dreams for a lot less. This design curves around your figure so effortlessly channelling a chic, timeless look so you can have luxury for less.
6. Party Sneak Peek
Jaws dropped when Kylie Jenner graced the carpet in a black Prada minidress with a custom crystal skirt to attend their SS24 show. But little did you know, she is so Odd Muse! Now, we know this show stopping look was part of Milan Fashion Week, but we know how much you love a sneak peek here at Odd Muse so… Introducing our party collection coming this October, featuring our Ultimate Muse Pearl Drop Dress, boasting a high neck finish and adorned with delicate pearl embellishments. If Kylie says leak the pearl drop, we leak the pearl drop.